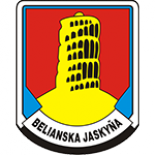 The only show cave in the High Tatra mountains
The Belianska Cave belongs among the most visited show caves in Slovakia. Except for bizarre rocky shapes, it is known by rich occurrence of calcite fills. Though the interest in natural attractions of the cave have been persisting for 125 years, the rules of its forming are not entirely clear by now.
Price list
---
Cave tour
Adults
Children 6-15y.,
handicapped people *1
Students,
> 60 years *2
Photo-Video
without using a tripod *3
Extra
admission *4
Belianska Cave
8,00 €
4,00 €
7,00 €
10,00 €
50,00 €
Notes:
*1 - Children from 6 to 15 years; disabled over 15 years with valid certificate
*2 - Full-time students - if studying at a university, a confirmation of student status for the current academic year; Persons over 60
*3 - Photo-Video - Taking pictures and short video recording without using a tripod can be accomplished only during cave visit after payment of entrance fee and extra fee for taking pictures. The fluency and safety of cave operation mustn't be disrupted.
*4 - Extra admission can be enabled by the cave manager on visitor's request only between the times of regular admissions and after paying the admission fee and extra fee. The fluency of cave operation mustn't be disrupted.
NO RESERVATIONS OF ADMISSIONS ARE PROVIDED. During low visiting numbers the admission are scheduled according to preset times, however during high visiting numbers the admissions are organized continuously in intervals corresponding to current possibilities at individual caves, i.e. also between the preset times.
Cave tour
---
| | | | |
| --- | --- | --- | --- |
| | Duration | Lenght | Average temperature |
| Belianska Cave | 70 min | 1370 m | 5,0 - 6,3 °C |
The show path is 1,370 m long with elevation range of 125 m, there are 860 steps on the path. The stay in cave lasts about 70 min. The temperature ranges between 5 and 6,3°C.
The visitor can admire flowstone waterfalls, pagoda stalagmite, pools and many other forms of cave decoration. One of the stops is in the Musical Hall, named after the sound of dripping waters on pool surface. This hall was used for organizing musical concerts of reproduced classical music because of its superior acoustics.
Opening times and cave map
---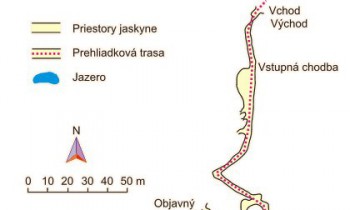 mon
tue
wed
thu
fri
sat
sun

1

Date: 01.12.2016, thursday
Closed

2

Date: 02.12.2016, friday
Closed

3

Date: 03.12.2016, saturday
Closed

4

Date: 04.12.2016, sunday
Closed

5

Date: 05.12.2016, monday
Closed

6

Date: 06.12.2016, tuesday
Closed

7

Date: 07.12.2016, wednesday
Closed

8

Date: 08.12.2016, thursday
Closed

9

Date: 09.12.2016, friday
Closed

10

Date: 10.12.2016, saturday
Closed

11

Date: 11.12.2016, sunday
Closed

12

Date: 12.12.2016, monday
Closed

13

Date: 13.12.2016, tuesday
Closed

14

Date: 14.12.2016, wednesday
Closed

15

Date: 15.12.2016, thursday
Closed

16

Date: 16.12.2016, friday
Closed

17

Date: 17.12.2016, saturday
Closed

18

Date: 18.12.2016, sunday
Closed

19

Date: 19.12.2016, monday
Closed

20

Date: 20.12.2016, tuesday
Closed

21

Date: 21.12.2016, wednesday
Closed

22

Date: 22.12.2016, thursday
Closed

23

Date: 23.12.2016, friday
Closed

24

Date: 24.12.2016, saturday
Closed

25

Date: 25.12.2016, sunday
Closed

26

Date: 26.12.2016, monday
Closed

27

Date: 27.12.2016, tuesday
Vstupy: 9:30, 11:00, 12:30, 14:00

28

Date: 28.12.2016, wednesday
Vstupy: 9:30, 11:00, 12:30, 14:00

29

Date: 29.12.2016, thursday
Vstupy: 9:30, 11:00, 12:30, 14:00

30

Date: 30.12.2016, friday
Vstupy: 9:30, 11:00, 12:30, 14:00

31

Date: 31.12.2016, saturday
Vstupy: 9:30, 11:00, 12:30, 14:00
Basic information and contact
---
| | |
| --- | --- |
| Cave manager: | Ing. Jozef Bachleda |
| Adress: | 059 54 Tatranská Kotlina |
| Phone: | +421/ (0)52/ 446 73 75 |
| E-mail: | belianj@ssj.sk |
| | |
| --- | --- |
| District: | Poprad |
| Region: | Prešovský |
| Cadastral territory: | Tatranská Lomnica |
| Geomorphological unit: | Belianske Tatry |
| Designation: | Sprístupnené SSJ, Národné prírodné pamiatky |
| Lenght: | 3 829 m |
| Depth: | 168 m |
Location
---
The cave is located on the northern slope of the Kobylí Hill in the eastern part of the Belianske Tatras Mts. It lies in the national nature reserve Belianske Tatras within the territory of the Tatra National Park.
Access to cave
---
Forest road to the Belianska Cave leads from the Tatranská Kotlina village, several kilometers north-easterly from Tatranská Lomnica. An educational trail leads to the cave entrance at the elevation of 890 m. The trail is 1,000 m long, and you need to overcome 122 m of altitude. The ascent lasts about 25 min.
The closest stop of public transport:
Car access to Tatranská Lomnica:
From Poprad direction Smokovce, Tatranská Lomnica, Tatranská kotlina – 30 km
From Stará Ľubovňa via Spišská Belá direction Tatranská javorina – 40 km
GPS súradnice
N
49,2288017
E
20,3115997
Natural settings
---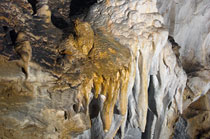 Formed in Mesozoic Middle Triassic dark grey Gutenstein limestones of the Krížna Nappe. The origin of the cave was conditioned by interbed surfaces, less the tectonic faults, along which the waters penetrated and flowed into deeper parts of the underground. The primary caverns were entirely filled with water, which except for corrosion worked by slow pressure flow. Large cupolas and smaller kettle hollows were modelled on the ceilings.
The primary caverns probably originated in connection with dissection of originally larger plateau of the Kobylí vrch above the cave, as well as with subsequent deepening of the Belá Valley. The largest underground spaces were formed already before the main Quaternary glaciation of the Tatras. The waters penetrating into the cave at the time of ice ages retreats had only partially remodelled the before formed underground spaces. The seepage waters are presently concentrated in the lowest parts of the cave, where they form occasional streams.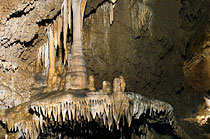 The cave length is 3,829 m with elevation range of 168 m. The entrance parts, accessible through thirled tunnel, contain chimney spaces opening into them and leading from the upper original entrance situated 82 m above the present one. Ascending and descending parts of the show path, determined by interbed surfaces of limestone, are rising from the Crossroads and are in places widened by collapses into domes and halls (Collapsed Dome, Dome of Ruins). Oval shapes of water modelling are preserved in several places (Pipe Dome, Long Corridor, Abyss Corridor). Remarkable vertical segmentation is supplemented by abysses (Famine Abyss, Hell) and chimneys.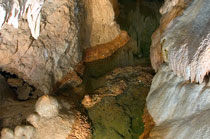 Attractive are the flowstone waterfalls (High Dome, SNP Dome, Waterfall Dome, Musical Hall) and pagoda stalagmites (Palm Hall). Other forms of calcite fill are also abundant (Gallery, Treasury, White Hall). Air temperature reaches 5,0 to 6,3 °C, relative humidity 90 to 97 %.
Seven bat species were determined in the cave. Dominating is the Greater mouse-eared bat (Myotis myotis). Occurrence of other species such as Whiskered bat (Myotis mystacinus), Brandt´s bat (Myotis brandtii), Geoffroy's bat (Myotis emarginatus) is less frequent. Tiny invertebrates such as Bathynella natans can also be found in cave pools.
History
---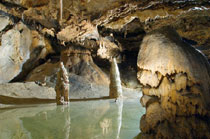 The cave entrance has long been known. The entrance parts were known by gold seekers as early as the first half of the 18th century, which is evidenced by the inscriptions of their names on the rocky walls. However they had been unrevealed for many years. The entrance was again found by L. Gulden and gold miner Fabry in 1826, however they did not penetrate deeper into the cave. In 1881 the opening to underground was accidentaly found by J. Husz and J. Britz. Some days later, they dared to enter the unknown underground spaces. Further discoveries during 1881 – 1882, as far as the Dome of Ruins, were shared by A. Kaltstein, I. Verbovszky and J. Britz. The financial support of the Spišská Belá town and thanks to A. Kaltstein, the cave was open for public through the original entrance as early as 1882 in a section to the Palm Hall, and in the end of the year they dug the present entrance. The cave was opened for public as far as the Dome of Ruins in 1884, from where by digging out a tunnel into the side passage from the Crossroads the path was circulated in 1885. Electrically lit is the cave from 1896. K. Piovarcsy, G. Gabriel and other members of the Carpathian Convention discovered new spaces near the Outlaw's Chamber and Musical Hall in 1926. Boulder Passage, Column Dome and opening to the Hell Abyss was discovered by P. Klepáč in 1935. The cave survey was organized by V. Benický in 1939. Large reconstruction work were done in the fifties of the last century and during 1979 – 1980 the path was adapted by an adit between the Loamy Passage and Dome of Ruins.
The cave is used for healing speleoclimatic stays in the last years. More than 1,000 m with elevation range of +125 m is open for public at present.
Photo gallery
---
Download
---