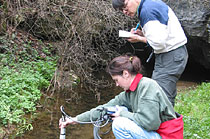 Water is one of the most important components of cave geosystem. It is necessary for origin of caves spaces, formation of flowstone and ice fills and speleothems, existence of aquatic species of cave fauna. Water represents a transport media through the cave, which can be here accumulated during various time intervals. The karst waters are highly vulnerable. A problem of deterioration of their quality is many times connected with the reasons of gradual destruction of cave decorations and threatening the life of water animals.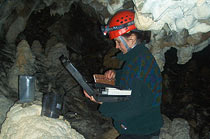 Hydrological and hydrochemical research of cave systems resides mostly in monitoring of qualitative and quantitative character of attributes of karst waters and their potential changes in time and space, as well as in explanation of many time very complicated conditions of their underground circulation. The information on the character of these waters are substantial, since they can cause corrosion of carbonate cave fills. The knowledge of mutual relations and communication of surface and underground waters in the karst territory is important for interpretation of results. The outcomes of the hydrological and hydrochemical monitoring are used as entries in dealing with more complex tasks. The conclusions can be used as incentives for effective regulation of anthropogenic activities on the surface of karst landscape.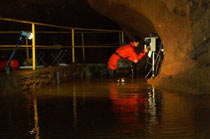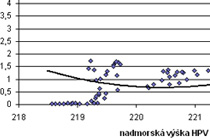 The monitoring and research tasks are realized by the form of: (1) expedition measurements of several basic physical-chemical parameters of waters in cave environment, or waters directly related, (2) collection of samples with following interpretation of results, (3) continuous monitoring of regime changes of active and occasional water courses, levels of underground lakes and their selected qualitative attributes, (4) observation and mapping of karst hydrological phenomena (ponors, springs). Hydro-indicative tracing experiments are applied for reasons of finding out the underground circulation water ways, as a common method of karst hydrological research.
Hydrological and hydrochemical research of caves in Slovakia is provided mostly by the Slovak Caves Administration in Liptovský Mikuláš. Other vocational organizations participate on several research tasks. Within the problems of cross-border waters in the Slovak Karst we cooperate with the Aggtelek National Park administration in Hungary.