Managing editor: Ing. Jozef Hlaváč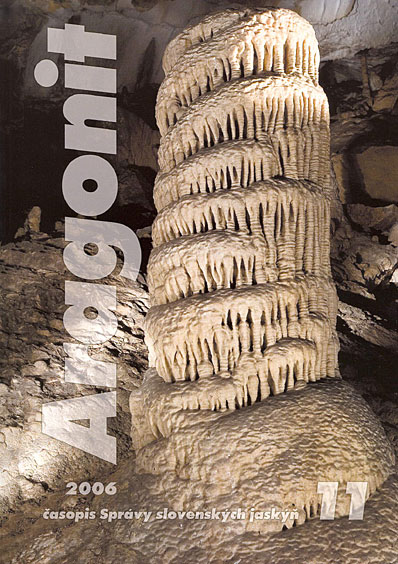 Editor and executive editor: RNDr. Pavel Bella, PhD.
Editorial board: Doc. RNDr. Jozef Jakál, DrSc., RNDr. Jozef Kramárik, RNDr. Ľudovít Gaál, Ing. Ľubica Nudzíková, Ing. Peter Gažík, RNDr. Ján Zelinka
Editorial office address: Správa slovenských jaskýň, Hodžova 11, 031 01 Liptovský Mikuláš
Published by the Slovak Caves Administration in Liptovský Mikuláš in 2006 in Knižné centrum, Predmestská 51, 010 01 Žilina.
Registration number: 1523/96. ISSN 1335-213X. The journal is issued once a year.
Publishing house editor: Mgr. Bohuslav Kortman. Graphics: Ing. Ján Kasák
Typesetting: M&P, spol. s r.o., Žilina. Tlač: Uniprint, Považská Bystrica
Pictures on cover page: (1 – 2) Belianska Cave. Photo: M. Rengevič. (3) Gombasecká Cave. Photo: P. Bella. (4) Ochtinská Aragonite Cave, Photo: P. Bella.
Original articles from cave research are reviewed.
Contents
Editorial
J. Hlaváč: The jubilee of the Belianska Cave
Original contributions from cave Research
P. Bella: Contribution to the morphology and genesis of the Driny Cave
J. Psotka – Ľ. Gaál – M. Peško: Contribution to the geology of the Liskovská Cave
D. Haviarová: Hydrogeochemical evaluation of dripping waters in the Liskovská Cave
L. Bobáková: A few comments to the bat species spectrum of the Liskovská Cave
J. Psotka: Geological and geomorphological settings of Obrovská Shaft on the Dolný vrch Plateau in the Slovak Karst
L. Vlček – M. Sabol: Fossil remains of cave bear (Ursus spelaeus Rosenmüller, 1794) from Teplica Cave in the Muráň Plateau
L. Vlček: An interesting finding of chamois bones (Rupicapra rupicapra) in the cave in Malá Stožka Massif (Muráň Plateau)
P. Gažík: Cave valuation – possible or impossible?
Documentation and protection of caves
P. Bella: Natural scientific and societal significance of geomorphological phenomena in caves and their protection
A. Mock: Wood in a cave – its significance and consequences for practical maintance of caves
M. Fulín: Comments to the monitoring of bats in the Jasovská and Drienovská Caves
Ľ. Gaál: Will the protection of Ponická Cave be successful?
V. Papáč: Contribution to knowledge about the fauna of Ponická Cave
D. Haviarová – P. Gruber: Tracing test in the Milada Cave
P. Staník: Trstín Water Abyss – myths and reality
Ľ. Gaál – M. Peško: New protection zones of caves
I. Balciar: Cleaning of abysses in the Slovak Karst
P. Staník – I. Balciar: Practical care of caves in Slovakia during 2005
P. Holúbek – P. Staník: New parts in the Gombitove Halls of Demänovská Cave of Liberty
Caves and public
T. Gall – Ľ. Nudzíková: Attendance of show caves in 1995 – 2005
Ľ. Gaál – P. Gažík – M. Soják: New educational center in the Domica Cave
Z. Višňovská: New palaeontological exposition of cave bear (Ursus spelaeus) in the Važecká Cave
Ľ. Gaál: Zlá diera (Bad Hole) – new show cave in Slovakia
J. Stankovič: Educational trail The caves of Slovak Karst – World Natural Heritage
M. Štéc: Educational trail in the Ďumbier high mountain karst
P. Labaška: Water source for operation of Demänovská Cave of Liberty
From the history
M. Lalkovič: From the history of the Liskovská Cave
M. Lalkovič: Miloš Janoška and his interest about caves
Attractions from abroad
P. Bella – Ľ. Gaál – P. Gažík – J. Zelinka: Study trip to selected caves a karst localities in Greece
L. Vlček – J. Šurka – J. Hrončová: Underground of Denmark
J. Hromas: Caves Administration of the Czech Republic established
Speleological events and affairs
P. Bella: 5th Scientific Conference "Research, Utilisation and Protection of Caves"
J. Zelinka: 2nd International Workshop on Ice Caves (IWIC-II), Demänovská Dolina 2006
Ľ. Gaál: 9th International Symposium on Pseudokarst in Poland
V. Papáč – Z. Višňovská: 18th International Symposium of Biospeleology in Romania – 100 years of biospeleology
D. Haviarová: 14th International Karstological School at Postojna
Ľ. Gaál: 12th meeting of Slovak-Hungarian working group for nature and landscape protection at Csopak, Hungary
P. Staník: 5th seminar of speleological guard service
P. Bella: 11th vocational seminar for show caves employees
Short news
Show caves attendances in 2005 (Ľ. Nudzíková – Ľ. Gaál)
Promotion of Slovak show caves in Athens (T. Gall)
Mučínska Cave – new euducational locality in the Cerová Highland (Ľ. Gaál)
Representatives of the Australian Caves and Karst Management Association in Slovakia (P. Bella)
We have visited the Skalky skřítků Cave in Doupov Hills, Czech Republic (Ľ. Gaál)
Memorable board of Ing. Svätopluk Kámen (Ľ. Gaál)
11th Quaternary 2005 (J. Psotka)
Karstological and speleological literature
J. Galvánek: J. Jakál a kol.: The Caves of World Heritage in Slovakia
P. Bella: D. C. Culvier – W. B. White, Eds. Encyclopedia of Caves
A. Mock: H. Wilkens – D. C. Culver – W. F. Humphreys, Eds. Ecosystems of the World 30. Subterranean ecosystems
P. Gažík: K. S. Woo: Caves – A Wonderful Underground
J. Zelinka: V. N. Dubljanskij a kol.: Kungurskaja ledjanaja peščera: opyt režimnych nabljudenij
J. Psotka: Research, Utilisation and Protection of Caves 4 – Proceedings of scientific conference
Ľ. Gaál: J. Stankovič – P. Horváth: Caves of Slovak Karst in the life of Vilam Rozložník
P. Bella: Udin boršt
J. Psotka: Speleofórum 25
Ľ. Gaál: Contributions on karst and caves in the journal Geomorphologia Slovaca, vol. 1 – 5
Ľ. Gaál: P. Michal: Drienocká Highland as the karstic landscape
L. Vlček: Z. Nišponský: In flooded depths under Tisovec and Muráň Castle
Ľ. Gaál: Speleological articles in the journal Reussia
Social reports
J. Zelinka: Sexagenarian Dr. Jacek Piasecki
J. Zelinka: Jiří Hebelka fifty-years old
Ľ. Gaál: RNDr. Sixty-five-years of RNDr. Ján Mello, CSc.
Ľ. Nudzíková: Entered among fifty-year old ones
L. Vlček: Bibliography of journal Aragonit Vol. 1 – 10